[APP] DemonEditor for Linux und macOS.
DemonEditor
Enigma2 channel and satellites list editor for GNU/Linux and macOS.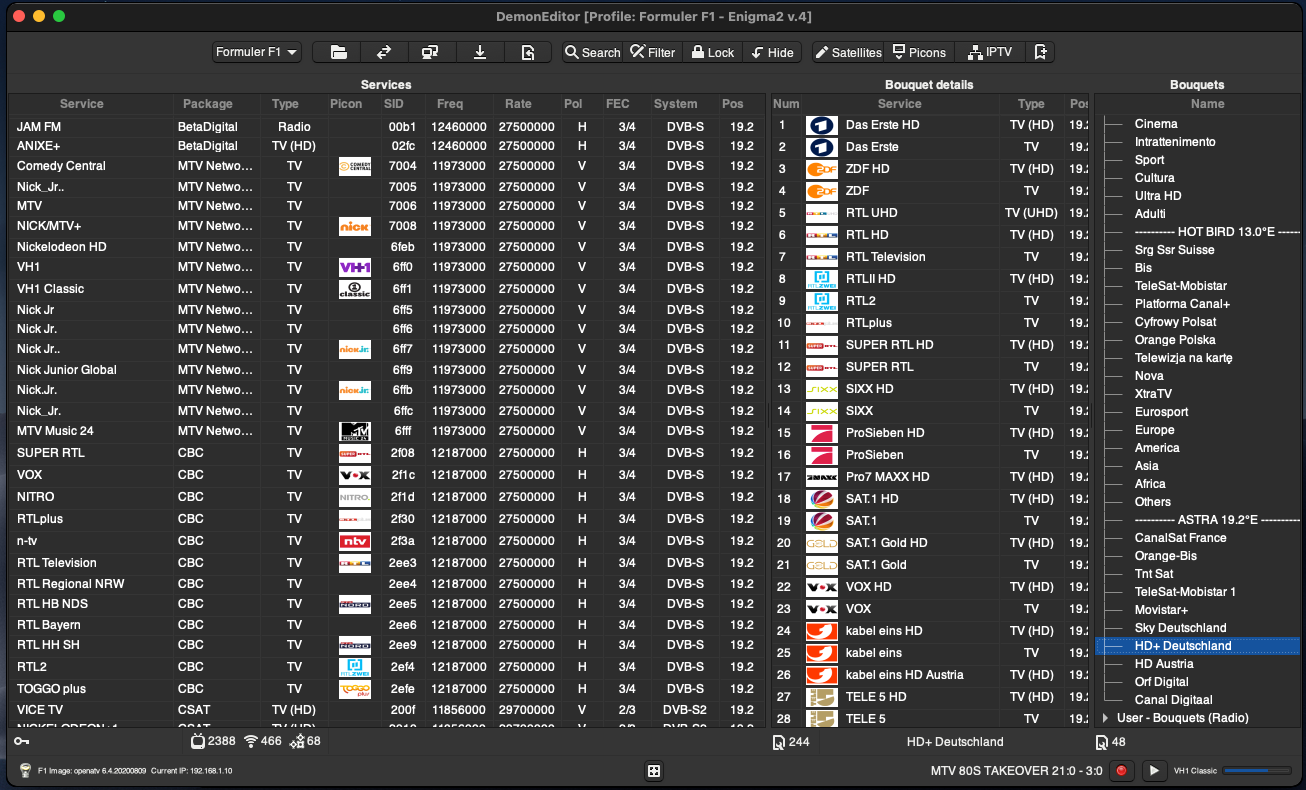 Unterstützt Enigma2 und Neutrino-MP(oder andere auf der gleichen Basis, BPanther usw., experimentell).
Unterstützte Plattformen: GNU/Linux und macOS.
Die macOS-Version befindet sich im experimentellen Status!
Mindestanforderungen:
Python >= 3.5, GTK+ >= 3.16 mit PyGObject bindings, python3-requests.
Hauptfunktionen des Programms:
1. Bearbeitung von Bouqueten, Kanälen , Satelliten.
2. Unterstützung von Picons.
3. Erweiterte Unterstützung von IPTV.
4. Importfunktion.
5. Backup-Funktion.
6. Herunterladen von Picons und Aktualisieren von Satelliten (Transpondern) aus dem Internet.
7. Imports in den Bouquet(Neutrino WEBTV) aus m3u.
8. Export von Bouqueten mit IPTV-Diensten in m3u.
9. Zuordnung von EPGs aus DVB oder XML für IPTV-Dienste(nur Enigma2, experimentell).
10. Vorschau(Wiedergabe) von IPTV oder anderen Streams direkt aus der Bouquetliste (sollte VLC installiert sein).
Tastaturkürzel:
Strg + X – nur in der Bouquet-Liste. *
Strg + C – nur in der Hauptliste. *
Die Zwischenablage ist "Gummi". Es gibt eine Akkumulation vor dem Einfügen!
Strg + Einfügen – kopiert die ausgewählten Kanäle aus der Hauptliste in das Bouquet am Anfang oder fügt (erzeugt) einen neuen Bouquet ein.
Strg + BackSpace – kopiert die ausgewählten Kanäle aus der Hauptliste an das Ende des Bouquets.
Strg + E – Bearbeiten. *
Strg + R, F2– umbenennen. *
Strg + S, T im Werkzeug "Satelliten" für die Erstellung eines Satelliten oder Transponders. *
Strg + L – Kindersicherung. *
Strg + H – ausblenden/überspringen. *
Strg + P – Wiedergabe von IPTV oder einem anderen Stream in der Bouquet-Liste starten. *
Strg + Z – den Kanal umschalten (zap) (funktioniert, wenn die HTTP-API aktiviert ist, nur Enigma2). *
Strg + W – auf den Kanal umschalten und im Programm zuschauen. *
Leertaste – auswählen/abwählen.
Links/Rechts – Auswahl entfernen. *
Strg + Nach oben *, Nach unten *, Bild-Auf, Bild-Ab, Nach Hause, Ende – ausgewählte Elemente in der Liste verschieben.
Strg + O – Benutzerdaten aus dem aktuellen Verzeichnis (neu) laden. *
Strg + D – Daten vom Box (neu) laden. *
Strg + U/B – Daten/Bouquets zum Box hochladen. *
Strg + F – Suchleiste ein-/ausblenden. *
Strg + Umschalt + F – Filterleiste ein-/ausblenden. *
* – werden in macOS unterstützt (Strg -> Cmd).
Für die Mehrfachauswahl mit der Maus (einschliesslich Drag and Drop) drücken und halten die Taste Cmd (macOS) oder Strg (Linux) gedrückt!
Wichtig:
Terrestrische (DVB-T/T2) und Kabel (DVB-C) Kanäle werden nur für Enigma2 unterstützt!
Das hauptsächlich unterstützte Lamedb-Format ist Version 4. Die Versionen 3 und 5 haben nur experimentelle Unterstützung!
Für Version 3 ist nur der Lesemodus verfügbar. Beim Speichern wird das Format der Version 4 verwendet!
Bei Verwendung der Mehrfach-Importfunktion werden aus lamedb nur Daten für Kanäle entnommen, die sich in den ausgewählten Bouquets befinden!
Wenn einen vollständigen Datensatz benötigt, einschliesslich [satellites, terrestrial, cables].xml (aktuelle Dateien werden überschrieben),
lade einfach deine Daten über "File/Open" und drücke "Speichern".
Beim Importieren separater Bouquet-Dateien werden nur die Dienste (ausser IPTV) importiert, die sich in der aktuell geöffneten lamedb (Hauptliste der Dienste) befinden.
Bei macOS version konnen nicht alle Funktionen korrekt funktionieren!
Weil ich keine Hardware von Apple habe, wird die Linux Version für mich Priorität haben!
Kommandozeilenargumente:
-l – Protokolle in Datei schreiben.
-d on/off – Ein-/Ausschalten des Debug-Modus. Ermöglicht die Anzeige weiterer Informationen in den Protokollen.
-t on/off – einfachen eingebauten Telnet-Client anzeigen/verbergen (nur macOS-Version, experimentell). ANSI-Escape-Sequenzen werden nicht unterstützt!
Neueste Version des Programms.
Linux-Version: 
ZIP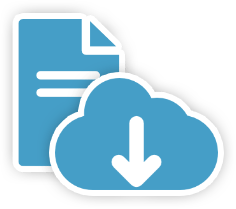 DEB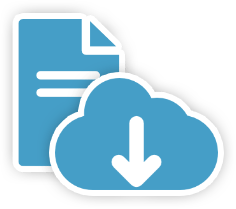 PPA: 
stable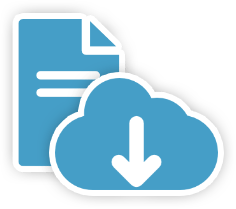 testing.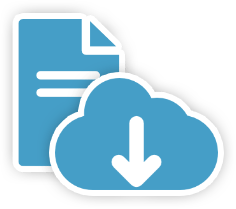 macOS-Version:
 dmg.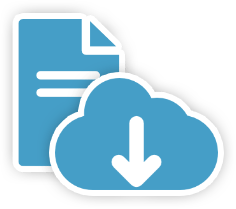 Für mehr Informationen: Linux Version, macOS Version.